MarBorg Industries is a leader in the community and has made the process of waste collection and diversion simple, streamlined, and environmentally beneficial. Through their well-established programs and services, MarBorg Industries is able to focus on increasing efficiency while reducing harmful impacts to the environment. Promoting change lies at the heart of their organization, and it is reflected in the improvements they have made to their corporate headquarters, equipment, and services.
Green Business & Leadership in Energy and Environmental Design (LEED)
In addition to being a certified Green Business through the County of Santa Barbara and the California Green Business Network, MarBorg Industries is actively engaged in Energy Star and holds a Platinum certificate from the LEED for Existing Buildings: Operations & Maintenance program. Participation in these programs has resulted in the development and implementation of key sustainable operations policies including a green cleaning policy, integrated pest management policy, and an environmentally preferable purchasing policy.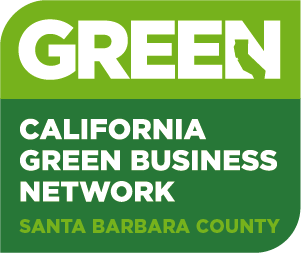 Waste Reduction
MarBorg employees practice what they preach by diverting as much waste away from the landfill as possible. MarBorg's kitchens are stocked with reusable cups, plates, and cutlery, as well as compostable alternatives for to go items. In addition, MarBorg participates in the City's Foodscraps program to turn food, soiled paper products, and compostable materials into compost. Comingled recycling, battery recycling, and e-waste recycling are just a few additional ways that MarBorg partakes in diversion.
Water Conservation
MarBorg's headquarters facility has documented indoor water use savings of 23% through the installation of low-flow aerators and high efficiency toilets and urinals. Landscaping irrigation is minimal due to MarBorg's water wise plants and utilization of green landscaping services.
Energy Efficiency
MarBorg's headquarters facility ranks among the top 34% of buildings of similar type and usage in the country. These efforts have resulted in an Energy Star score of 82 out of 100. Home to one of the largest solar installations on the South Coast, MarBorg has a 30kw solar system on their corporate facilities' roofs. This installation generates 13% of MarBorg's daily energy consumption, which is enough energy to power 40 homes on a sunny day.
Integrated Pest Management
Seagulls and other birds are the most common pests at MarBorg's C&D facility, so MarBorg utilizes an ecosystem-based approach to ensure that birds do not transport waste from their facility elsewhere. During business hours, a hawk is used to scare and intimidate smaller birds away from the facility. This predator prey relationship is the same that occurs in nature, and it does not cause harm to people or the environment like pesticides do.
Transportation
For more than a decade, MarBorg has been replacing older diesel engines with newer and cleaner models. In anticipation of state requirements to reduce diesel exhaust, MarBorg upgraded more than 50 vehicles to run on Compressed Natural Gas (CNG) engines. This state-verified best available control technology eliminates emissions of diesel particulate matter and decreases oxides of Nitrogen (NOx) emissions by 90% (as compared to a 5 year old diesel engine). MarBorg was the first hauler on the South Coast to use CNG collection vehicles, and they continually add CNG vehicles to their fleet. They remain ahead of the curve in greenhouse gas reduction efforts. MarBorg constructed their own CNG refueling station to support this updated fleet, and it can fill 30 CNG vehicles overnight. To ensure a comprehensive fleet of sustainable collection vehicles, MarBorg Industries is using Bio-Diesel fuel (B5) in all of its existing diesel vehicles.