2 Station Hand Wash Sink (Bravo)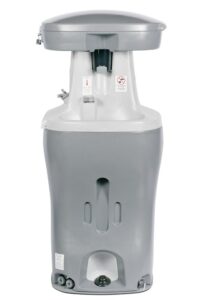 Users say bravo! Innovative design and sleek, streamlined style set this two-station portable sink apart. The PolyJohn Bravo® Hand Washing Station is basic, portable and designed to get the job done. With its compact size, it will easily fit inside most portable restrooms for easy transport, and thanks to its built-in lift handles, is easy to place in your designated restroom area. Bravo® features two soap dispensers and two paper towel dispensers.
Features include:
Capacity: 22-gallon fresh water, 24-gallon grey water
Nearly 350 uses without refilling
Includes two soap dispensers, two towel dispensers and hands-free foot pump operation
Includes drain plugs and lockable fill caps
Engineered with built-in handles to easily maneuver into place
Easy on-site maintenance with handy siphon port for pump out
Stays put with tie-down ring
Weighs 70-lbs empty, 250-lbs full
Paper Towel dispenser requires Bay West® EcoSoft™ Roll Towel (Item # BW-46200) or Georgia-Pacific Envision® Singlefold Towels (item # GP-23504)
Covered by U.S. Patent No. 7,730,561 and U.S. Design Patent No. D553,753.
Note: Non-heated sinks can not be upgraded to heated versions.
Description
Measurement
Height
62 in / 157 cm
Width
26.5 in / 67 cm
Depth
21.5 in / 54 cm
Fresh Water Capacity
22 gal / 83 L
Gray Water Capacity
24 gal / 91 L
Pump Capacity (per stroke)
2 fl oz / 59.14 ml
Number of Dispenses
1408
Soap Dispenser Capacity
2 x 30 fl oz / 2 x 887 ml
Total Soap Dispenser Capacity
60 fl oz / 1,774 ml
Paper Towel Capacity
250 towels per pack.

 


1000 towels per wash station.

 


(Four packs of single-fold towels
Georgia Pacific 23504)
Weight Empty
70 lb / 32 kg
Weight Full
254 lb / 115.2 kg